When on the road or out at sea – the Matilda Mattress is the mattress with your travel comfort in mind!
Makin Mattresses has designed and made a mattress specifically constructed to give you all the comfort of home but without the weight for towing and ease of bed making in mind.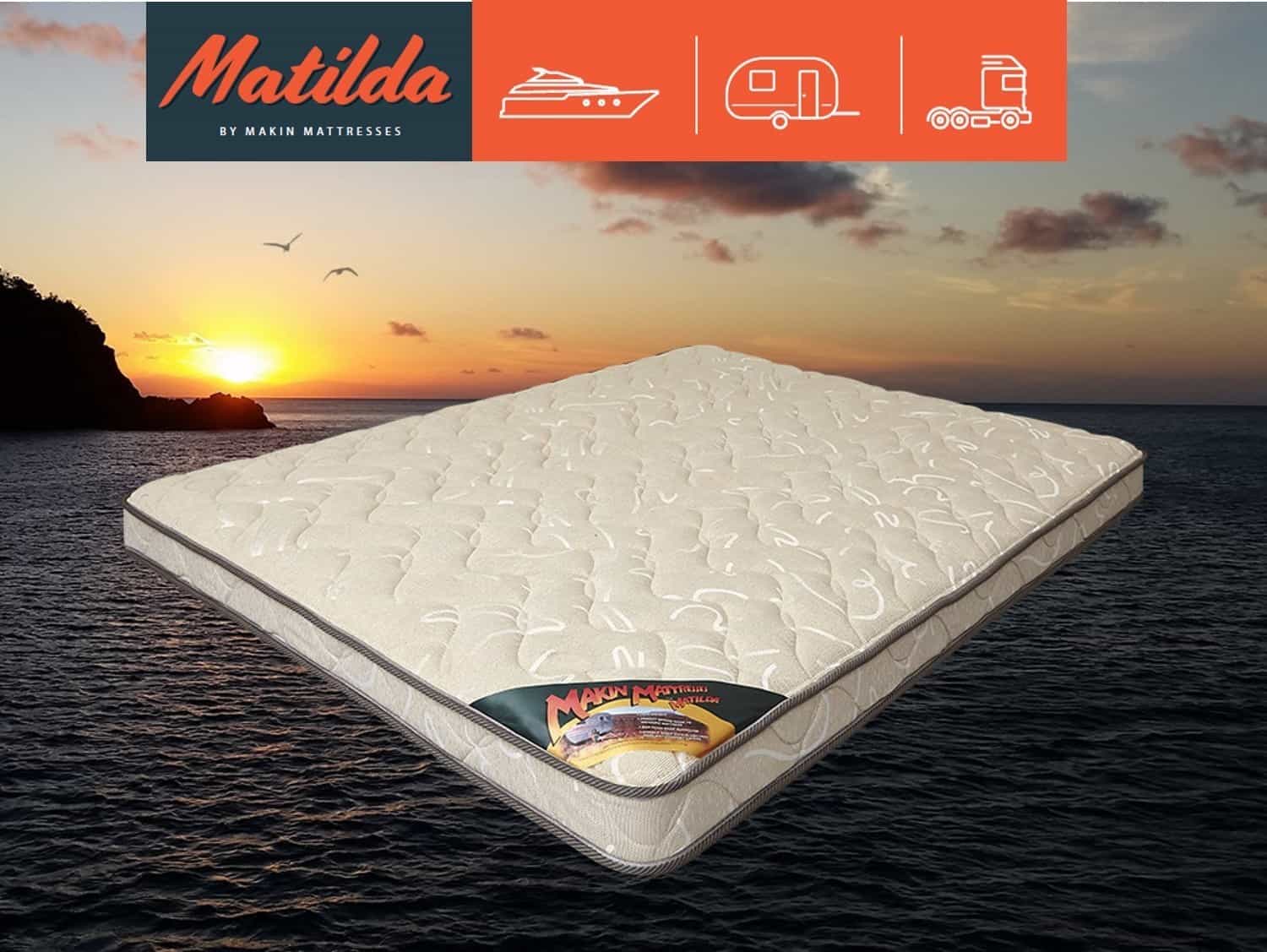 The Matilda Mattress comfort options
We cater to all comfort and quality levels that's why we offer three levels of features and cost for our Matilda caravan mattress customers.
Matilda Classic model utilises a pocket spring support system to minimise partner disturbance, finished in our fire retardant material. Mattress height 14cm, Price from $375 single.
Matilda Deluxe model has all the features of the Matilda Classic except for one important difference, luxurious fabric upgrade. The plush fabric upgrade is quilted with poly wool fibre (warmer in winter, cooler in summer), giving the mattress a much plusher feel. Mattress height 16cm, price from $565 single.
Matilda Eclipse model takes the Matilda Deluxe to the next level of comfort by incorporating 25mm premium quality comfort layer. Mattress height 18cm, price from $680 single.
The Matilda caravan mattress comprises of the finest quality components, ensuring durability & longevity. All custom orders complete and ready for collection/delivery within 10 working days.
Custom made – Special make – Made to Measure Mattresses – Made to order – Lightweight Caravan Mattress.
Customise our retail mattress range
Of course, if you prefer a mattress from our wide range of mattresses or the premium Bellissimo mattress range – Makin Mattresses can customise our mattresses to your specific needs. Made to measure or special make, we manufacture the mattress to suit the size of your Caravan, Camper Trailer, Truck Cabin, Motor Home, RV or Boat Berth – rounded & angled corners to extra-long – we will build to your specifications. Simply request a quote today.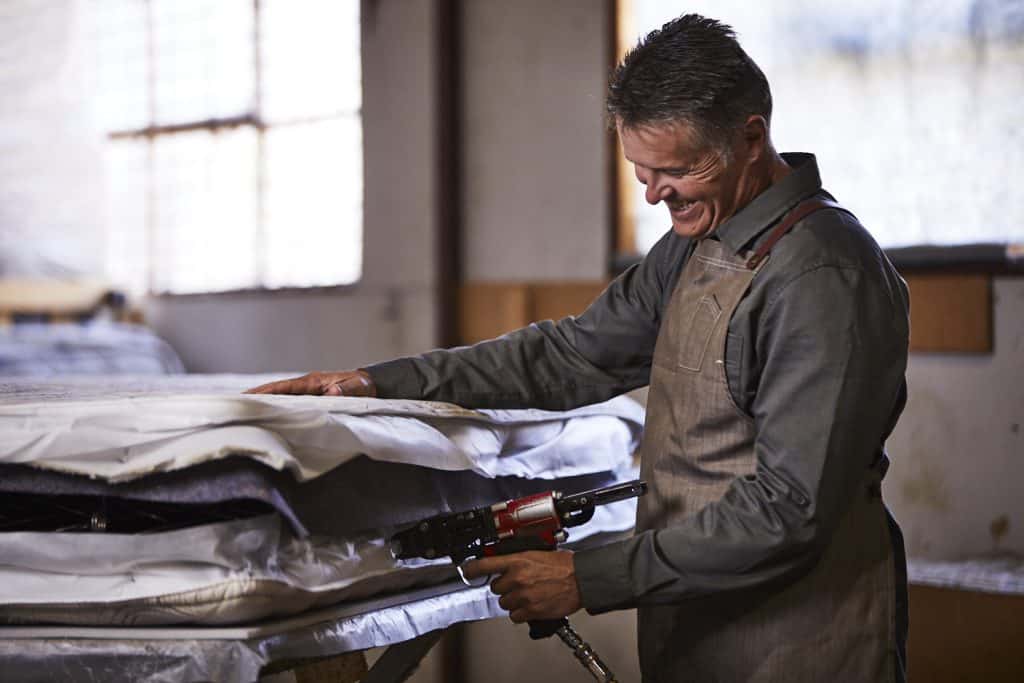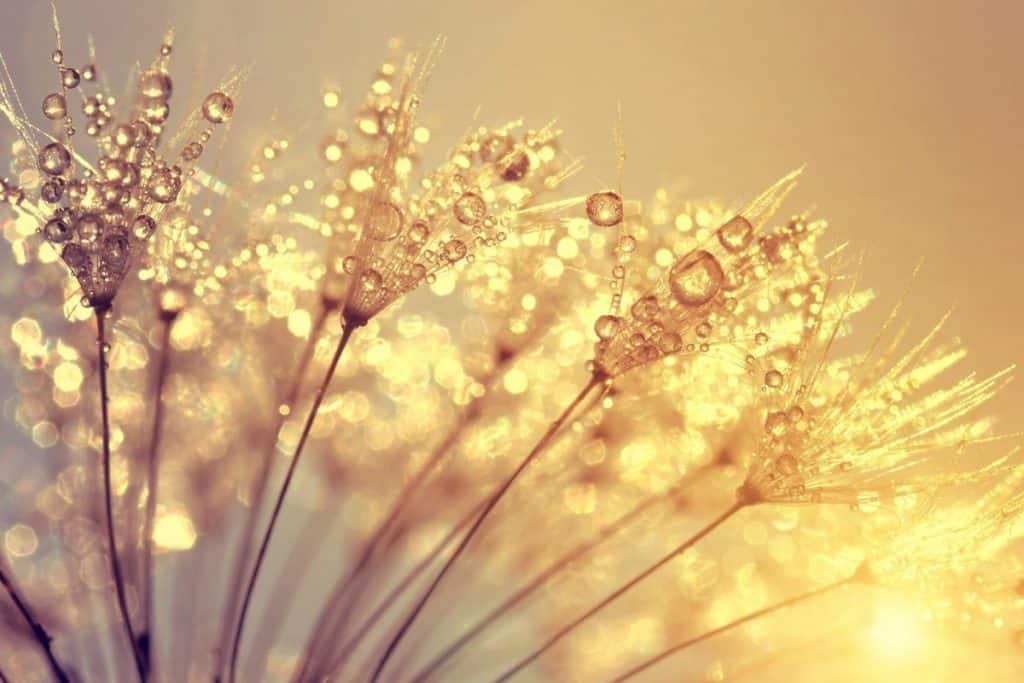 Features
Can be customised to suit your sleep space
Lightweight, minimising overall towing weight & fuel consumption
Ability to bend to fit through small spaces
Pocket Spring support unit, for comfort and minimal partner disturbance
Supportive comfortable foam edge for durability, sitting and ease of bed making.
Double sided, designed to last longer
Two feels in the one mattress, one side soft/medium feel, one side medium/firm feel
2 Years Warranty
Australian made.
Mattress Sizes
All Makin Mattresses mattresses are made to Australian Standard sizes however as the manufacturer we can custom make ALL our mattresses to suit your unique sleep space. Whether it's for your home away from home caravan, camper trailer, motorhome, truck cabin or boat we have a mattress to suit your needs. The Matilda Mattress is specially created for mobile sleep spaces due to it's lightweight & flexible components yet not sacrificing on comfort and support. See below size guide to assist with your quote request.