When it comes to getting a good nights sleep, it's what's inside a mattress that counts.
At Makin Mattresses we make all our mattresses at our six manufacturing sites. We are proud of the quality components we include in each of our mattresses that's why we've prepared this mattress construction overview, designed to make the process of choosing the right mattress for you a little bit easier.
When comfort is your number one priority
You've told us that comfort is your number one reason for buying a new mattress, but you also want it to last, that's why using quality components, resulting in long lasting comfort is our number one priority!
Comfort layers The layers of materials between you and the support unit determine how cushioning and comfortable the mattress is. These are wither only on the top (single sided) or on the top & bottom of the mattress (double sided).
Support Core of the mattress construction – determines the amount of support. With three main support units traditionally used 1) The traditional spring unit, known as the Bonnell spring, 2) Pocket Spring unit, that reduces partner disturbance and 3) Latex for true body contouring attributes.
Quilted Cover The final component and the one visible is the Quilted Cover. Each fabric is carefully selected to finish the mattress to give a luxurious feel. Each fabric is quilted with a final comfort layer to ensure comfort and breath-ability of the mattress resulting in a cooler nights sleep.
The illustration below demonstrates the components and materials utilised for the construction of the Indulgence Plus mattress.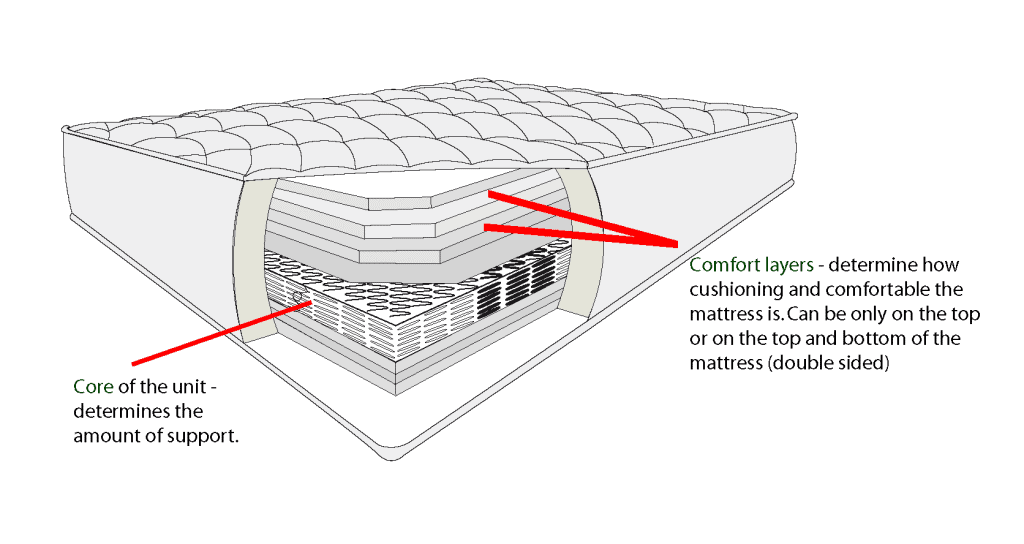 So what does this all mean?
Below we outline good better best of what to look for when purchasing a new mattress: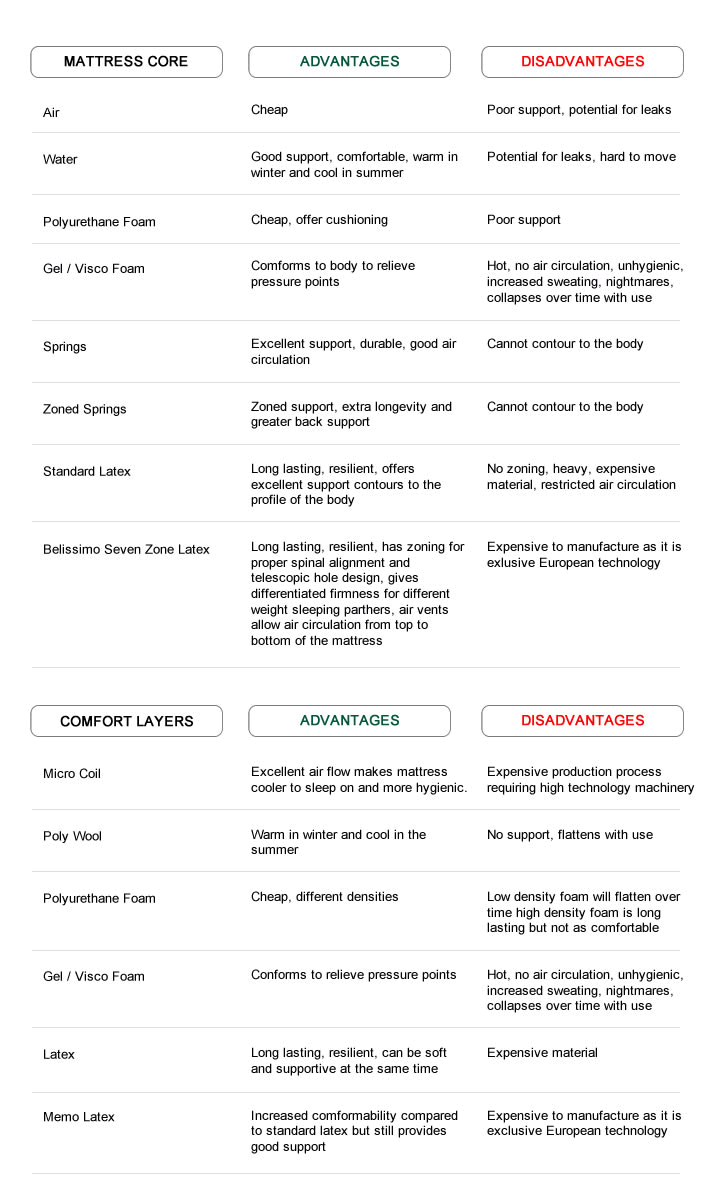 Benefits of a two piece, double sided mattress.
Let's take a look at the Allure mattress model.
1. Pillow tops offer luxuriant cushioning for tired bodies. Being removable means that this comfort is still a practical feature. Removable pillow tops have air flow technology and can be flipped and turned so that they wear evenly.
2. Poly Wool comfort layer in the quilting makes the mattress cool in summer and warm in winter.
3. The European Latex layer has a plush, spongy feeling for ultimate comfort.
4. The visco memory foam layer moulds and contours to the whole body providing pressure point relief.
5. The mattress spring unit provides maximum back care, with a heavier gauge spring in the middle of the unit where support is needed most.
6. The mattress includes a resilient comfort edge that increases the sleeping surface of the mattress.
7. The timber frame base includes four drawers which provide convenient storage space for blankets, extra pillows etc.